Let us take a trip back to 1963, when Ford Motor Company's Vice President Lee Iacocca convinced Henry Ford II to offer to purchase the cash-strapped Ferrari. The main purpose for this purchase would be to boost their car sales by entering the 24 Hours of Le Mans.
After some investment of time and money by Ford, Enzo Ferrari pulled out of the deal as he wished to remain at the helm once the requisition was complete. This however did not fit in with the plans of Ford and so Enzo sent the Americans packing.
On his return the US, an insulted and enraged Ford demand that his racing division build a car to defeat Ferrari at Le Mans thus the Ford GT40 came to life, a car that most definitely is a legend. Top Gear tells the full story here
Looking back at the history of this magnificent car makes it even more exciting to be a part of the team that is shipping a beautiful Ford GT Heritage Edition Gulf from the US to the UK.   The Heritage Edition Gulf has been limited to two years production and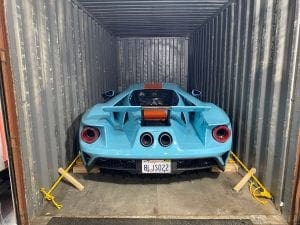 honours the legendary American Gulf Oil-whom sponsored Ford GT40 by featuring the most famous paint scheme in motorsports.
A lot of planning and preparation is required to ensure the safe transit of this, what can only be described as a work of art.   Here we can see the collection packing and offloading of this beautifully crafted machine.
The straps and blocks not only kept the vehicle in place and safe but caused no damage to the vehicle allowing for a safe and successful transit.